What's the Difference between a Chaise and a Daybed?
Eames La Chaise and Barcelona Daybed are two of our most popular mid-century modern design pieces, and today they're going to help us illustrate the definition and differences of two lesser-known furniture pieces, the chaise, and the daybed.
Why are we talking about this? Because we're all about choosing the best furniture piece for lounging, sitting or even snoozing! In this blog article, we'll clear up the confusion in these two terms.
If you're looking for an elegant, versatile piece of furniture to seat one or even two people, both of these are good enough, we can promise you that. But for those interested in modern furniture design, we'll sort out the differences between these iconic mid-century modern furniture pieces you might encounter on your furniture hunt through our store.
What Is a Chaise?
Originally from the French term "chaise longue" which means "long chair," a chaise is an upholstered seat for one, and it is meant for reclining in and relaxing. It's basically a chair and footstool in one. A distinctive characteristic is that they always have a back and may have one, two or no arms.
Originating in 18th-century France —Chaise stands for a long chair in French, after all— the first chaise was upholstered for bed-style comfort, but many contemporary descendants like the Eames La Chaise offer a more streamlined profile. Some chaises like the Eames La Chaise are contoured, making it even more tempting to lie back and relax. There are others like the Le Corbusier Chaise that have a more contemporary shape and can be used to seat two side by side or one reclining.
The Fainting Couch variation
One form that might have inspired the design behind the Eames La Chaise, with a back and one arm is sometimes called a fainting couch. This design originated in the Victorian era when ladies wearing restrictive corsets often found themselves in need of a place where they could sit and catch their breath before they fainted. While the need for this particular piece of furniture has thankfully gone, it still adds elegance and appeal.
The Eames La Chaise
Originally designed by Charles and Ray Eames in 1948 for a competition at the Museum of Modern Art in New York, its form was inspired by "Floating Figure," a sculpture by Gaston Lachaise. The Eames La Chaise took its name from the Gaston Lachaise's Floating Figure sculpture because the Eames believed the sculpture could perfectly fit into this lounge chair.
Its particular and voluminous scooped-out shape allows the person to sit and recline in different positions comfortably. The curved, generous and welcoming shape of the Eames La Chair not only allows it to take on different positions but has contributed to making the Eames La Chaise an icon of mid-century modern design. Combining this with the iconic look of this chair, you'll have a little performance of art display in no time.
Initially, the Eames La Chaise consisted of two glass fiber shells, glued and separated by a rubber disc, with the cavity filled with polystyrene; the base of the Eames La Chaises consisted of five round metal bars, with wooden feet intersecting. But this design was expensive and resulted in high production costs. These high production costs kept the Eames La Chaise unavailable from the market for a long time.
It would take over 40 years before the Eames La Chaise would actually be put into production. It wasn't until the '90s when many companies began to introduce the Eames La Chaise in their catalogs. Now with a lacquered polyurethane shell, chrome-plated steel rods, and oak feet. This means that the Eames La Chaise wasn't part of the Charles and Ray Eames Portfolio during their lifetime. The Eames La Chaise was later included as it is known around the world, with such a great history and as a faithful reproduction of the original concept.
What is a Daybed?
Daybeds, on the other hand, have experienced a great surge in popularity recently. Some daybeds have a regular twin-size mattress while others feature a low back and two raised ends.
Daybeds are particularly versatile because you can use them as a couch during the day and as a bed at night when it's cleared of extra pillows. They're truly lifesavers when someone needs to stay overnight in a hurry. Unlike a sofa or a couch, you can position daybeds almost anywhere in the room, not just against the wall.
The Barcelona Daybed
The iconic Barcelona couch or Barcelona Daybed as it's also known was originally designed by Mies van der Rohe, it's a nice counterpart to chaises like the Eames La Chaise and different to any traditional daybed out there. With no back, a tufted mattress-like seat and a simple neck-roll pillow, the Barcelona Daybed is a mid-century modern icon meant to be floated in the room rather than pushed up against the wall or smothered in pillows.
Our Barcelona Daybed replica is expertly built following Mies van der Rohe's exacting standards: The Barcelona DayBed sits upon on a polished tubular stainless steel base and a strong ash wood platform finished with a protective clear lacquer. Taken from a single cowhide, 72 individual panels are then cut, welted and tufted with leather and buttons, all by hand. For additional comfort, its cushions are filled with high-end, fire retardant, urethane foam. For cushion support, 17 straps are stretched over a rubber webbing. Finally, its characteristic matching leather bolster, unique to the Barcelona Daybed, is secured to the cushioning platform with straps and lock snaps for additional support.
Regarded as a crucial accomplishment of mid-century modern furniture design, the Barcelona Day Bed is a piece worthy of royalty. Reminiscent of the days of the glorious Roman Empire, the Barcelona Day Bed will imbue the same sense of nobility and greatness to your home and office.
Is it a Daybed or a Couch?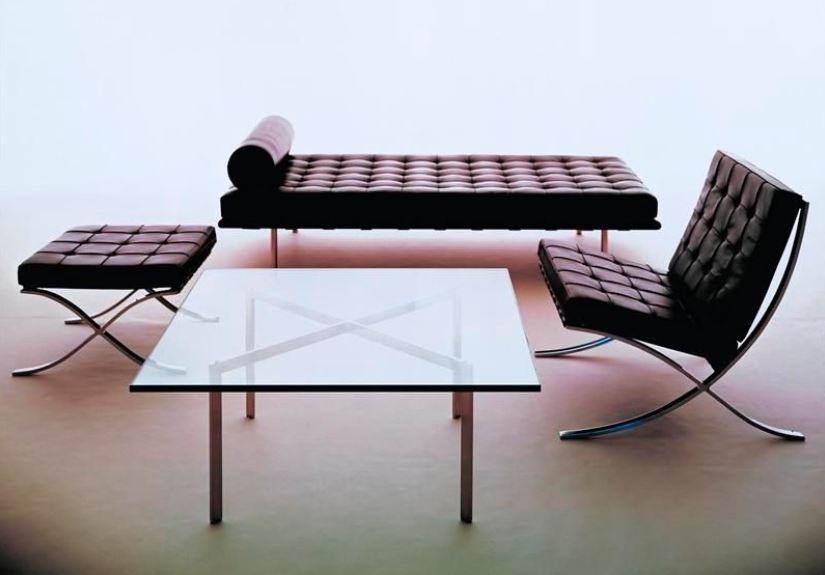 When it comes to the Barcelona Daybed, it seems the terms "couch" and "daybed" are often used interchangeably, but in Barcelona Design we've decided to use "daybed" for this piece of mid-century modern design. It's one of few differences with the originals. Why have decided on this term? Because sometimes the way you use a piece determines what you call it. As we mentioned above, we believe the Barcelona Daybed is a mid-century modern icon meant to be floated in the room rather than pushed up against the wall or smothered in pillows.
What's next?
Now that you've learned the differences between a Chaise and a Daybed plus everything you need to know about our Eames La Chaise and Barcelona Daybed replicas, it's your turn to take action and order yours today in our store. And tell us: Do you have a piece of furniture like any of the ones featured here? What do you call it?