The New Additions to The Barcelona Collection and Their Value
The Barcelona Collection that we sell at Barcelona Designs have a few added pieces of furniture that were not included in the original Barcelona Collection, created by Ludwig Mies van der Rohe in 1929. Some people tend to question their value and ask if they should even buy them along with the quality replicas of the originals.
This questioning might appear stupid for another set of people: you're going to get a quality piece of furniture anyway. If you're a fan of mid-century modernism and Ludwig Mies van der Rohe, you get yourself an item from the Barcelona Collection, right? But your knowledge and love for mid-century modernism is not the only thing that you might be thinking about (if it is, that's great anyway). You might be thinking about how you can make these new additions work together with other items to make your life much easier.
What are these additions to the original Barcelona Collection?
Let's start with this particular point. A lot of people think that the Barcelona collection starts and ends with the Barcelona chair, the table, the ottoman, and the daybed, but if you sacrifice that point of view for just a few minutes, you can include some more gorgeous mid-century items in your bedroom. These iconic items are the Barcelona sofa, the Barcelona loveseat, and the Barcelona benches, both the two-seat and three-seat models, which are more or less the same thing anyway.
How much do you really know about these particular items? You should get a sense of the actual history behind them and see if you would be better off with a Barcelona sofa or loveseat instead of two Barcelona chair replicas, for example. If you're going full mid-century, you can consider buying more than one of these items from our store, here at Barcelona Designs. We promise you that each and every one of these items is made with love, first and foremost, and second, with all the quality and craftsmanship standards and obligations that are required of the original items at larger companies.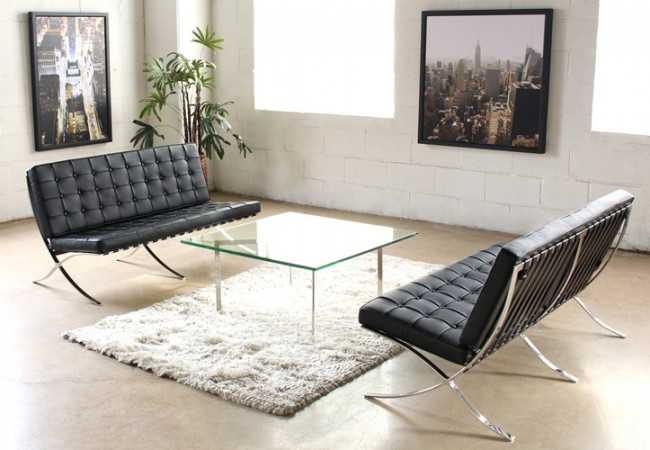 What defines the original Barcelona Collection? Is it good to add something more?
This question might be hard to answer, right? The Barcelona Collection is an iconic cluster of furnishings from 1929. It is the place where all of this ideas by Mies were born and it has evolved to become recognized thanks only to the original items of the Collection. The Barcelona chair, table, etc. However, a mid-century modernist addition to the collection doesn't have to be a bad thing, they add value to something that was already iconic and famous, they don't change it. Here's how you can figure that one out for yourself.
The Barcelona sofa, to give an example, was designed entirely out of the original collection and probably very recently, we can't actually pinpoint who created it first and, today, can cost you some money and we have to say that it is actually one of the best-selling items in the Collection. You can check that one out for yourself: if you go into the homepage you'll see a little snippet on the bottom left of people buying things from us, and if you look long enough, we guarantee a Barcelona sofa is going to pop up at some point. These new additions today follow the design trends set up by Mies and other furniture designers, and that is what makes them as valuable as the originals.
The Barcelona Collection is minimalistic and less ornamented than other iconic pieces of furniture. They items do come with an elegance of their own (that's actually an important part), and they are usually considered one of the best inventions in all of modernist furniture, the style predecessors to other items like the Eames Lounge chair or the Womb chair, which came almost 40 years later.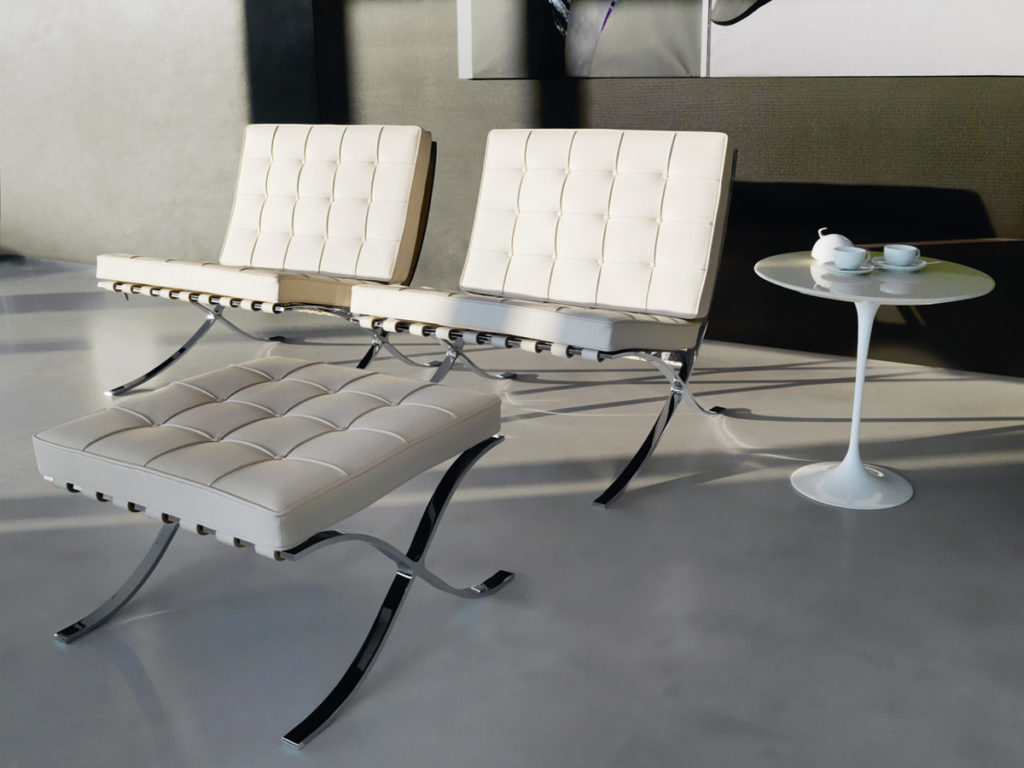 Some great ideas to start considering the Barcelona sofa, loveseat, and benches
We can't stop recommending these items here at Barcelona Designs, since all four of them can provide any space in any home with the same elegant mid-century feeling. Though they might seem expensive for some people, they are actually quite affordable is you compare them to other mid-century modern items by "certified" dealers. However, if you're just looking for the easy mid-century icon, we also recommend that you check out our Best Sellers page for starters.
Some other ideas for you to consider: the benches from the Barcelona collection, at first, are one of the most flexible items in the whole collection. You can use them to furnish entryways and other areas where there people would wait for a few minutes, you can use them in a dining room if you enjoy bench sitting in the kitchen, for example. You can put them at the foot of your bed for extra seating and an added touch of style… there's lots of things you can do with them.
The Barcelona sofa and loveseat work as extensions of the original Barcelona chair replica. If you take the measurements and decide that buying one or two Barcelona chairs would not completely make things better around your house, you can get the Barcelona sofa, which will allow you to sit at least three to four people. The Barcelona loveseat almost doubles the size of the actual chair, and getting two of these and putting one in front of the other might be a better solution for larger living rooms, rather than just buying two or three Barcelona chair replicas.
Whatever you decide just remember that Barcelona Designs is looking out for you when it comes to quality, and that everything you get from us is going to be great in its own individual way. If you're having doubts, contact us, don't be afraid to share your ideas. We want to listen to what you have to say about us and the Collection, and we hope to help you make the right choices for your living space.