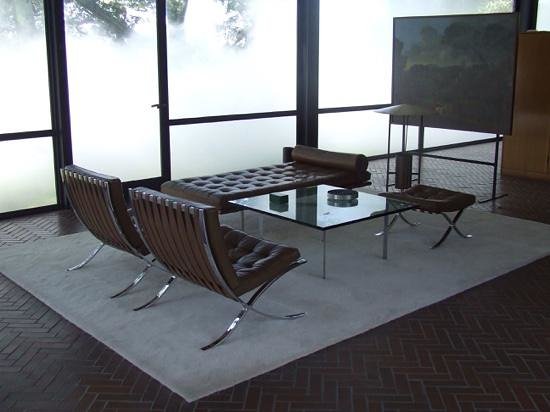 The Key Features of Our Barcelona Collection
Today we're going to examine the key features of the Barcelona Collection. Let's talk a little about what makes these timeless items great: the Barcelona chair reproduction and its companions all have a distinct set of characteristics that make them different from the rest of the reproductions out there. You might not know exactly what these are, because for many people these replicas are very similar to the others that you can find online. However, this could not be farther from the truth: there are good reproductions and then there's knock offs that don't really pay homage to the original designs.
High-quality Aniline Leather
This is the first thing you should be looking for in a good Barcelona chair reproduction, as well as in a good Barcelona ottoman replica, or Barcelona daybed replica. This is the first element that will tell you if the product is of real quality, or if it is a knock off, as we mentioned. You might find it agreeable to check for the quality of the leather before purchasing any of these items, as cheap leather will be less durable, and will probably break off after a few months of continued usage. Here at Barcelona Designs, we work with the best leather you can find on the market.
Our full-grain premium Italian leather is handpicked and expertly handled by our craftsmen, which are experts in creating this type of mid-century modern furniture. The surface of the cushions, for the Barcelona chair and the other items in the collection, features individually cut leather panels that are seamlessly sewn together, just like in the original design. Other manufacturers, who offer replicas that are of less quality, will not follow this procedure in order to cut costs and make as many chairs as possible. We are not bothered by the time it takes to craft these items, we make each and every one of them as detailed as possible.
Filling, frames, and design
Our Barcelona Collection also features high density foam that's wrapped in synthetic silk, which allows airflow and creates that sinking feeling that makes you feel extremely comfortable whenever you sit on it. Other knock offs will use foam that's of less quality, and the cushions will require you to sit on them many times before they soften up and you start to feel the same comfort. Aside from that, the braided thread that holds the chair together (which is what creates that seamless effect and adds a lot of resistance to the final product) is used with lockstitch to ensure the piping stays in place, as well as creating very long lasting seams.
You will find these features in the Barcelona chair replica, the Barcelona ottoman replica, the Barcelona sofa, and the Barcelona loveseat. For the Barcelona couch replica, also known as the Barcelona daybed, you will find the same construction as well as a supportive ashwood platform that's finished with a clear protective layer of lacquer. This is to ensure quality and to keep the designs as close to the original as possible. Regarding the frames, we use the same stainless steel for all of our designs, buffed (polished) by hand by our craftsmen, which creates a mirror-like sheen that will not fade with time.
***
We are very proud of our Barcelona Collection, we have gone great lengths to ensure these products are maintained at a standard that elevates itself above other manufacturers. The market is currently full of replicas that sometimes will resemble the real thing, but the true successor to the original Barcelona Collection of 1929 is here at Barcelona Designs.
As a final note, we invite you to check out our other articles on this subject, and also to compare these features with other replicas that you might find online. Prices may vary, but you are getting yourself a replica that stays true to the original specifications first laid out by Ludwig Mies van der Rohe for a price that's only a third of what you could be asked for from the original manufacturers. We've been doing this for a long time now, and we understand the needs of our customers, so check out our Barcelona Collection if you truly want to experience real quality.