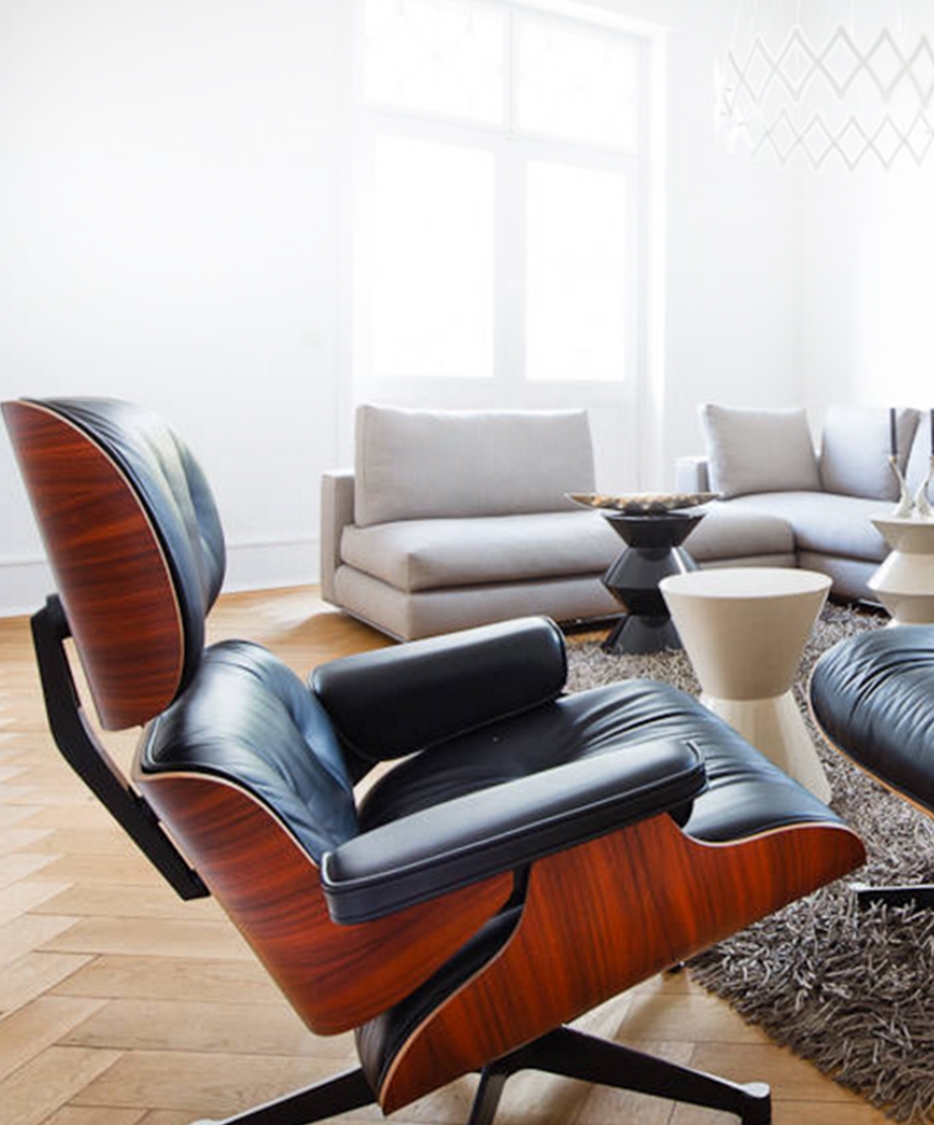 The best pairings for the Eames Lounge Chair (and where to find them)
Eames Lounge Chairs have an enticing quality that allows them to stand on their own and really command a room. But when it comes to decoration, the combination is everything. Decorating isn't just about buying the best furniture, it is also a careful process of pairing textures, patterns, and colors to create a unique, but attractive home style. 

We thought we'd take this concept one step further and curate a selection of 5 mid-century modern pieces that would go great with our Eames Lounge Chair replicas. Now, don't think of this article as an unyielding rulebook, but rather a springboard for your own adventures in home design.
Barcelona Chair
The Barcelona Chair is a favorite of modernist interior designers. It's an amazing piece of mid-century modern design that deserves to stand by the side of the iconic Eames Lounge Chair. Simple, comfortable, neutral, its stainless steel frame contrasts with the wood veneer of the Eames Lounge Chair while maintaining some consistency with the leather upholstery, creating a dynamic contrasting look for your home.

Even after more than 80 years since its design, the Barcelona chair still feels fresh, rid of the futuristic Jetsons-style vibe that many other mid-century furniture shares

Eames Lounge Chairs look best combined with minimal, modern pieces —you wouldn't match with a countrified log bench or an antique-looking lamp. The Barcelona Chair, being equally minimal, sleek, and unapologetic are one of the best companions for the Eames Lounge Chair.  And they're equally gorgeous!

You can find excellent reproductions of Mies Van der Rohe's Barcelona Chair and Ottomans in Barcelona Designs.
Eames Walnut Stool
What you'll be mostly doing on your Eames Lounge Chair replica? Reading one of your favorite books? Unwind with a drink after a long day of work? Some good ol' Netflix and chill? You'll need a place to keep all the essentials easily at hand. Some might said that the Eames Walnut Stool was designed to go with the Eames Lounge Chair.

In 1960, Ray Eames was asked to design occasional pieces to go with the chairs designed by her husband, Charles Eames. Trained as a sculptor, Ray Eames designed the Eames Walnut Stools, which instantly became her favorite seats and were scattered all over the home she shared with Charles.

Aren't they stools? Yes. But these stools designed by Charles and Ray Eames can be used anywhere, and almost in every way. They are beautifully versatile, and you'll find it can be an excellent side table and accessory to your Eames Lounge Chair.
Noguchi Table
We just talked about keeping essentials at hand while sitting on your Eames Lounge Chair, but if you want more than a stool to help you, it's time to talk about a proper table: the Isamu Noguchi table.

The Noguchi Table is the perfect combination of art and design that will go great along the Eames Lounge Chair. This iconic table was designed by Japanese sculptor Isamu Noguchi, joining a curved, wood base with a freeform glass top. Noguchi himself considered this table his only furniture success.
Le Corbusier LC2 Sofa
Chances are that your Eames Lounge Chair will be an iconic piece of your living room. But while you sit on your iconic mid-century modern throne, where are your guests, friends, and family sitting? Offer them an equally comfortable, elegant and iconic place to sit with the Le Corbusier LC2 Sofa.

The LC2 Sofa is one of the most famous and successful pieces from Le Corbusier furniture collection. With its comfortable, welcoming cushions, the LC2 Sofa entices anyone to sit down and relax. The LC2 Sofa is also a fresh, modern take on comfortable, sofas typically found in the elite gentlemen's clubs. There's not a reason why your living room, with the LC2 Sofa and the Eames Lounge Chair combined, should feel the same way.
Arco Lamp
I don't know about you, but when the weather looks and feels cold, there's nothing I want to do more than curl up with a book in my favorite reading chair and under the warm glow of an arch floor lamp. 

Separately, the Eames Lounge Chair and the Arco Lamp are statement pieces in any living room, just ask Iron Man. Together, they're a match made in modern decor heaven, making reading well into the night a luxurious affair.

You can find a true, high-quality reproduction of Castiglioni's Arco Floor Lamp in our store. It's one of our best selling pieces.

Are there any other mid-century modern designs that we should be considering in this article? Want to be featured on our website or social media? Send us a photo or two attached and we'll make it happen!