The Barcelona Sofa Replica Can Save You a Lot of Money
We know that sofas don't get much love from mid-century modern enthusiasts, but there a lot of great deals that could become excellent additions to your house or apartment, helping you keep that mid-century modernist look you've worked so hard to achieve.
Barcelona Collection
If you're looking for a great replacement couch, however, why not consider the Barcelona Sofa replica? Even if you live completely by yourself and never have company over (which we certainly hope isn't the case) you can purchase this great item to avoid getting tired of sitting on the same couch every time.
The price and features are totally worth it
We know that the cost can be the first deterrent for somebody that wants the mid-century look but can't buy directly from the uber-expensive original manufacturers. The Barcelona Sofa doesn't have this problem (see the other article for more details). As of today, it is one of our best-selling representatives of modernist furniture. It keeps the sleekness of the style while also providing you with lots of extra padding for comfort. And it looks even better when you throw a couple of Barcelona chair replicas in the mix.
For those looking for a more stripped-out visage, which showcases their seriousness and commitment to design, the Barcelona Sofa is a no-brainer. Fewer elements, rounder finish, and the same unbeatable comfort. Along with the Barcelona chairs, or a Barcelona loveseat, you're getting five seats for the price of three at any other original dealer.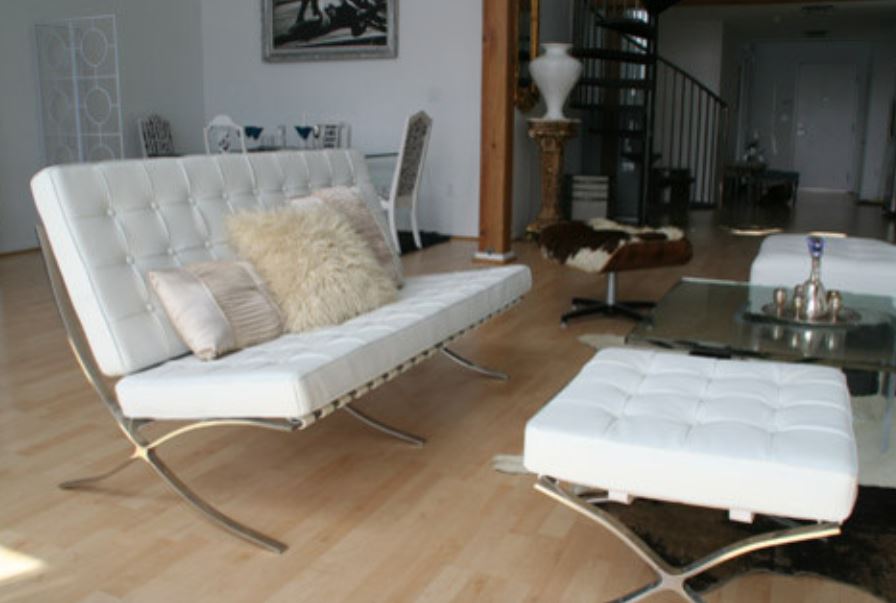 One of the most underrated items in our Barcelona collection
Now, think about combining the feeling of nobility that the Barcelona sofa provides with the minimalist elegance of the Barcelona table replica. Think about this sofa as the entry point for a new way of looking at your living room. If you're still looking to save some money after seeing it, you should also consider getting a Barcelona bench (we have two and three-seat variants).
The Barcelona sofa stays true to the elegant look proposed by Mies van der Rohe, and it will give you one of the most luxurious with our classic top-quality black leather finish. This be-all-end-all in sofa savings also has a premium grade steel base and leather strappings. You still get three to four seats that are organized in one large ensemble that looks great with almost any items. Take advantage of our seasonal promos and sales and you-re all set for a remodeling before 2019!