Description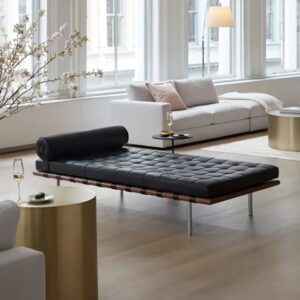 Originally designed by Ludwig Mies van der Rohe, the Barcelona Day Bed features the indistinguishable pure elegance that differentiates all our Barcelona Collection. The Barcelona Day Bed showcases the Mies van der Rohe's mastery of lines and materials that defined the mid-century and modern design.
The Barcelona Day Bed is expertly built following Mies van der Rohe's exacting standards: The Barcelona Day Bed sits upon on a polished tubular stainless steel base and a strong ash wood platform finished with a protective clear lacquer. Taken from a single cowhide, 72 individual panels are then cut, welted and tufted with leather and buttons, all by hand. For additional comfort, its cushions are filled with high-end, fire retardant, urethane foam. For cushion support, 17 straps are stretched over a rubber webbing. Finally, its characteristic matching leather bolster, unique to the Barcelona Daybed, is secured to the cushion platform with straps and lock snaps for additional support.
Regarded as a crucial accomplishment of mid-century modern furniture design, the Barcelona Day Bed is a piece worthy of royalty. Reminiscent of the days of glorious Roman Empire, the Barcelona Day Bed will imbue the same sense of nobility and greatness to your home and office.