Living Room vs Lounge | The Barcelona Chair Fits In Both!
If you are a fan of Mies van der Rohe, Charles and Ray Eames, or another designer from the mid-century modern style, you may know the Barcelona chair and how iconic it was.
If you are not aware of it, no problem! Today we are going to present to you in detail the features of this Barcelona chair. We will also explain to you the differences between a living room area and a lounge, let's start with this last topic, the differences.
What is the difference between the living room and the lounge?
To understand this let's define both of them.
What is the living room?
Credit: NEXTLUXURY
When we say living room it comes to our mind the area where is placed the sofa, tv, and that other stuff, right? And that is basically what a living room is, the living room is the "most spacious room of the house and is usually at the heart of the house, occupying the front portion".
This room is normally connected to the dining room and is generally adjacent to the kitchen. It usually consists of a sitting area but including pieces of furniture to function as an entertainment center.
Now, let's define our other room.
What is the Lounge?
Credit: Bo Bedre
According to Oxford Languages, a lounge is a public room, as in a hotel, theater, or club, in which to sit and relax. So as you see, a lounge is more like a formal area which includes comfortable chairs like the Barcelona chair, couches, beautiful tables, art, maybe bookshelves, etc.
It is basically a place where you can listen to music, sit and read while receiving company.
Understanding the differences
Now that we have defined both areas we can summarize the main differences between a lounge and a living room.
A living room is a more familiar area where you can spend time talking and watching Netflix with your loved ones. You can also eat snacks while sharing your thoughts with family and friends.
The living room is the largest area of a room
A lounge is more like a sitting area and is basically used to read and talk.
The lounge is often smaller and a lot cozier, it is made influenced or focused to comfort and relax purpose.
Why does the Barcelona chair fit in both?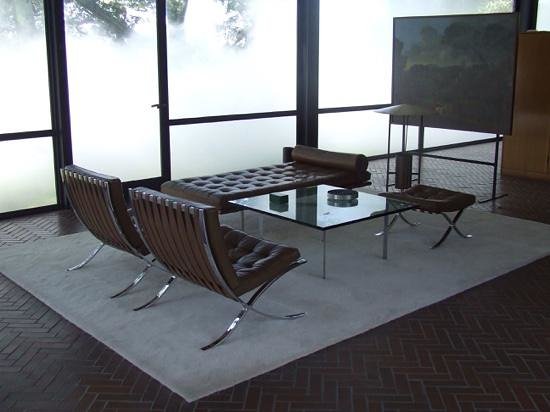 The Barcelona chair is a luxurious chair that was created to attend the German Pavillion in the '50s by the famous architect Mies van der Rohe. He was inspired by the campaign and folding chairs of ancient times.
"We must remember that everything depends on how we use a material, not on the material itself… New materials are not necessarily superior. Each material is only what we make it."
— Ludwig Mies van der Rohe
It fits in both areas or rooms because it is made based on the functional principles of the mid-century model style, together with its neutral appearance and organic shapes. These two factors made the Barcelona chair a simple but beautiful and fittable furnishing.
As the lounge and the living room needs a sitting area to receive guests, this type of chair is totally welcome in both kinds of rooms.