Introducing The Gorgeous Barcelona Loveseat Replica
Not everyday we get to discuss loveseats and their importance. They're not couches, and they're not exactly armchairs, but something in the middle. Their name has a particular connotation, but you don't need to be in love to buy a loveseat, you just need to know what you're buying. Barcelona Designs offers one of the best loveseats on the market: an integral part of the Barcelona Collection of replicas. Let's take a look at it.
Barcelona Loveseat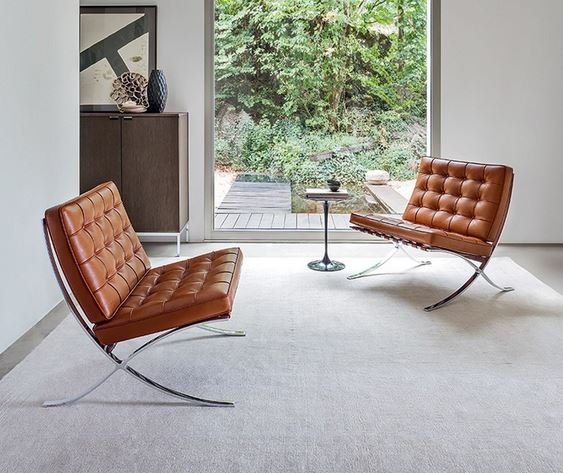 What is a loveseat anyway?
The idea of the loveseat is actually very old, and the first loveseats don't really resemble anything we have today. In the old days, a love seat was a long, outdoorsy bench, usually configured in a distinctive manner for people to sit in front of each other and engage in playful conversation. The modern conception of a loveseat draws from this principle, but the sofa era swallowed this concept whole to create what is basically a 2-person couch.
This is not to say that all modern loveseats are created equal. Even though you don't have that face-to-face seating design from the old models, you can still get quite a kick from a loveseat, especially if you live with your significant other in a small apartment.
Buying the Barcelona Loveseat replica for your living space
Modern loveseats also stem from the idea of a bigger chair for one person. In the old days, fashion tendencies (especially for women) included large dresses, so chairs had to become bigger for people to sit comfortably on them. Lounge chairs received this treatment and many kinds of loveseats were born from this new trend. The Barcelona Loveseat replica is an heir of this tradition, following the same elegant and royal design of the Barcelona chair replica.
We can begin by recommending that you check out the measurements of the loveseat and see if you would be better off with a couple of Barcelona chairs. You can also think about pairing it with a Barcelona ottoman (or two ottomans, depending on how much room you have), Loveseats are great to fill out living room corners. Placed diagonally, it can provide a very flexible seating option.
The Barcelona loveseat replica is definitely for people interested in more luxurious finishes, especially when in front of the Barcelona table replica. Both of them Work exceptionally well together and will give your living room a sense of minimalistic sophistication. Other types of loveseats tend to take more space and probably won't give you the look your desire right away.
As a final note, we would like to recommend that you consider getting a Barcelona sofa replica if you have enough space. One of these loveseats can go right in front of it, creating a lot of free space for people to walk around while still providing enough seating space around the square Barcelona table replica. There's a lot you can do with a Barcelona loveseat replica, and it's right here waiting for you!