Eames Lounge Chair and More Staff Picks for 2020
Eames Lounge Chair, Barcelona Chair and many pieces in this blog article are great examples of mid-century modern design. A movement that spanned from about 1933 to 1965 in America. The mid-century modern design included not only architecture but industrial, interior, and graphic design.
Designers such as Charles and Ray Eames, Mies van der Rohe, Arne Jacobsen, and Lily Reich created iconic furniture and lighting that are still highly coveted to this day. The style grew out of early-20th-century Modernism, including the International and Bauhaus movements.
We've often focused only on mid-century modern furniture but today we take it to the next level and focus not only on iconic furniture pieces like the Eames Lounge Chair and Ottoman but we include our favorite decor pieces.
Here are 5 of our favorite mid-century furniture and decor finds that will add enviable style and color to any room. Each piece we feature on this blog article has been independently selected and reviewed by our editorial team.
Finn Juhl 1955 Sideboard
It's amazing what a simple but lovely sideboard in an unexpected place can do for your home. The Finn Juhl 1955 Sideboard designed by Finn Juhl might look like a minor piece of furniture, but this particular sideboard is one that would make you reconsider everything else in the room, anything that doesn't go with a piece with such a history and fame would have to go!
Eames Lounge Chair and Ottoman
The Eames Lounge Chair and Ottoman is one of the most famous mid-century modern pieces. Its form and functionality have made it one of the most sought after pieces in modern history. This iconic design can be found in popular films, television shows, businesses and thousands of residences across the globe.
Its original designers, Charles and Ray Eames, had intended to give it the look and feel of a well worn first baseball mitt. It led to the creation of our Eames Lounge Chair and Ottoman, featuring your choice of multiple leather finishes, high-density cushions, and imported veneers.
Barcelona Chair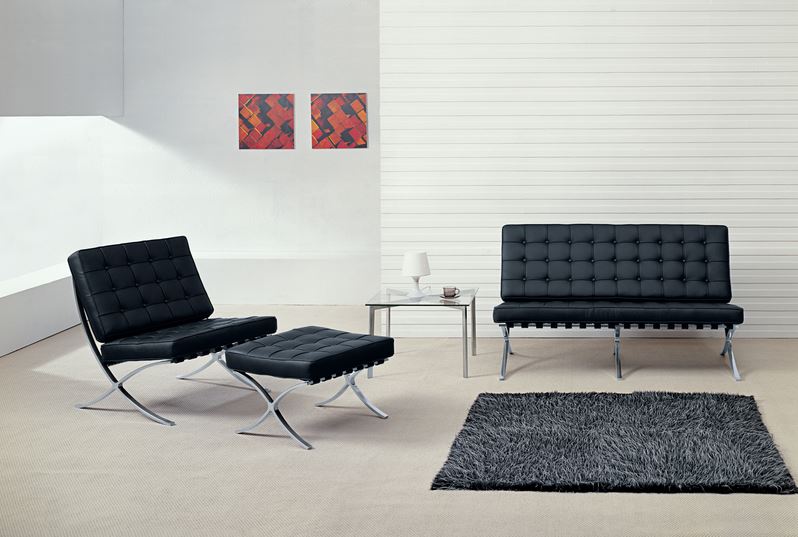 The Barcelona Chair originally designed by Ludwig Mies van der Rohe in the mid 19th century is the influence behind our state-of-the-art replica. We love the minimalist forms and exquisitely refined details of this iconic chair and tried to pay homage to the designer by achieving an extraordinary level of visual harmony using high-quality materials.
Noguchi Table
Noguchi Table means sculptural wood and tempered glass in a literal perfect balance merging artistry and furniture. Inspired by Japanese sculptor Isamu Noguchi, our Noguchi Table replica pays homage to this prominent mid-century modern design from 1948. Bring minimalistic elegance and zen harmony to your home with our faithful reproduction of such an iconic piece.
Arco Lamp
Our Arco Floor Lamp Replica is Barcelona Design's ways of honoring the gorgeous Castiglioni Arco Lamp. Originally designed in 1962, Arco Floor Lamp features a rectangular Italian Carrara Marble Base with a beveled corner that provides a solid, reliable foundation for its Stainless Steel Arch.
While reproducing our Arco Floor Lamp replica, we have paid close attention to follow the same architectural specifications of the original Arco Lamp to every detail. Expertly built with the highest quality materials and attention to detail, you won't find a better reproduction of this mid-century modern masterpiece by Castiglioni.