Differences Between Lounge Chair & Armchair | Barcelona Chair vs Pori Chair
Today's section is related to a topic that is very often discussed in interior design when it comes to selecting furniture, yes! We are talking about the difference between two models of chairs; the lounge chair and the armchair.
They can be very similar but are not considered in the same categories of chairs. Today we will help you identify them both.
For this dynamic we will show the characteristics of each one separately, taking as a reference a symbolic chair in each category, that is, for the armchair, we will take the Barcelona chair as a reference and for the armchair, we will take the Pori chair.
Let's dive into it!
The Lounge Chair | Barcelona chair
An armchair is a type of chair that was made to meet more formal needs like reading, and to be so comfortable to relax that you can even take a nap.
They are usually placed in living rooms – that's where their name comes from – functioning as a focal point thanks to their striking and comfortable features.
On weekends, I sit in a lounge chair on my balcony. I love to be outside when the weather's right. I can stay there pretty much all day.

Sue Monk Kidd – Famous novelist.
Now, how can you identify a Lounge chair?
Is very easy to do! Let's see this picture of a Barcelona chair replica: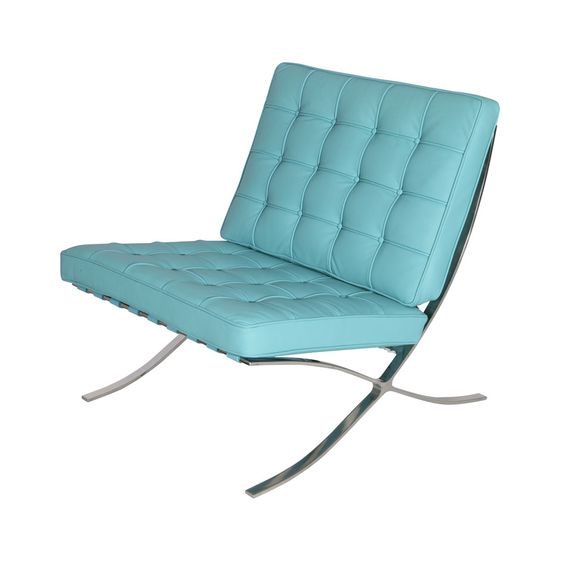 As you can see, the shape of the chair is a kind of curved L and not straight like a normal chair. This shape is made with the purpose that when you sit down you feel somehow invited to relax.
So when you see a chair with this kind of form it will probably be a lounge chair, but! Here comes the infallible proof… The lounge chair is NOT reclinable, they are originally made with the curved form and they'll stay in a permanently reclined position that cannot be adjusted by the user, this means that you can't custom to the high you want.
The Armchair | The Pori arm chair
An armchair on the other hand, according to Oxford Languages is "a comfortable chair, typically upholstered, with side supports for a person's arms".
This is as simple as its names refer, a chair with arms -the arm's sizes vary- that it's normally part of a living room set, strategically placed to match the other furnishing pieces or it can be used to complement and contrast the room's design.
As you can see, these features are quite remarkable in the Pori armchair.
The arms of the Pori armchair move in perfect harmony with the curving back, above a base of chromed steel. This chair may also look like an accent chair, the difference between both is that the accents chair doesn't have arms.
We hope have helped you to distinguish both types of chairs, let us know in the comments if you have any other to recognize each of them!