Choosing a Womb Chair Reproduction: Red or Light Gray?
When you encounter the Womb Lounge chair with ottoman reproduction at Barcelona Designs, you might be thinking about getting yourself the classic red look or the light gray, more quiet look. Any of these chairs will get you a quality product that you can enjoy in your living room or bedroom, but you might want to figure out exactly which one you're going to get before you buy. The red version is the most classic looking one, directly inspired by the original Womb chair created by Eero Saarinen. However, is it the right one for you? Let's find out.
The classic red look of the Womb chair and ottoman
This is the first look you will encounter in promotional items. The red look was the first one ever created by Eero Saarinen, even though later he would create other Womb chairs with a broader range of colors and textures. Nowadays, you can find lots of Womb chairs with a great range of tones and even finishes, you can even purchase a Womb chair with ottoman in leather, but then you wouldn't be purchasing the design that most resembles the original thing, so the red look does take some precedent in regards to the other ones.
At Barcelona Designs, we enjoy using this Womb chair and ottoman reproduction in our promotional material. We believe it shows how committed we are to actually offering you the real experience that you would get from purchasing one of these chairs. We want you to have the real thing, albeit at a price that you can actually afford without burning through your budget. That being said, let's explore a little bit more: there's another version of the Womb chair and ottoman reproduction, the light gray variant. Why would some people choose this one if the other is so great? Let's look into it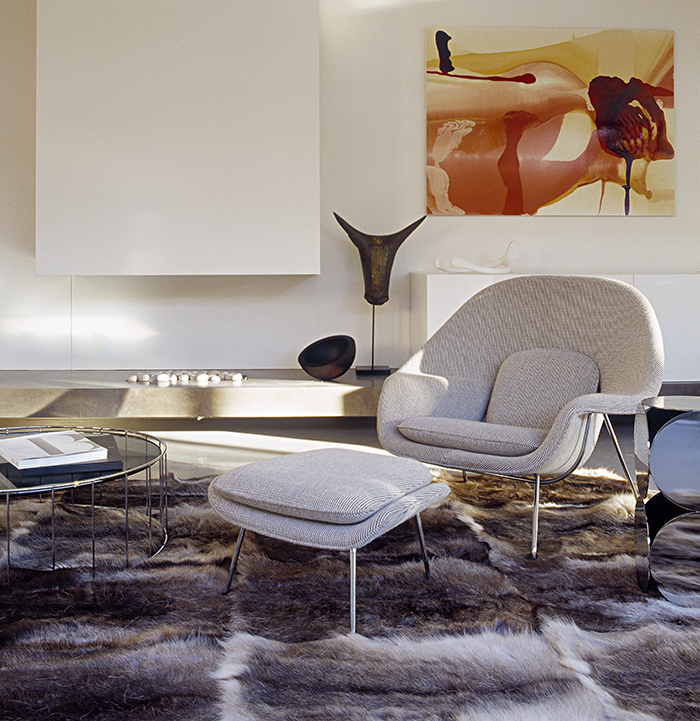 The light gray variant: a great choice for minimalistic spaces
When you encounter this version of the Womb chair and ottoman reproduction, you might be tempted to compare it to the red one, and not necessarily in a good light. However, the red version might not be for everyone: if you're putting together a space that benefits more from lighter colors, surrounded by a more monochrome atmosphere, gray is definitely for you. Think about it, the color itself does change your perspective a little. Some people pass on buying the Womb chair and ottoman reproduction because they see the red color and are somewhat disillusioned with it, thinking it won't really help their spaces because of the quirky, attention-calling finish.
Spaces that favor a more minimalist outlook might incredibly benefit from having a light grey Womb chair and ottoman reproduction. There's a lot of calm and leisure in the way this chair is constructed, and it might help you rest after a long day in a much more efficient manner. Consider your own needs when buying a Womb chair with ottoman reproduction, as you might find that you will benefit more from a chair that's lighter in color, but that comes with the same quality and manufacturing prowess as the original. Before we conclude this article, we want to say that these chairs are all great in terms of quality. These are award-winning reproductions that rival the original designs.
Barcelona Designs wants to help you make the most out of your space, being with the Womb chair and ottoman reproduction, or even one of the other great best-sellers that we have in our catalog. For more information, see our other articles. There you will find a lot of information on these iconic lounge chairs that shaped the mid-century modern style.