Barcelona Ottoman & 5 Other Models To Decorate Your Living Room
Before talking about models like Barcelona ottoman and others, let's dive briefly into ottoman's history.
Why do we call them Ottoman?
A bit of background about ottomans
The ottoman, a variation of a couch without a back, was first created to furnishing practices in the Ottoman Empire. An interesting fact about this piece is that it was designed for the first time as sectional furniture. The square shape and its measurements were thought to be covered by three walls. Years later they became smaller versions and were brought to Europe receiving the name from its origins.
Due to design progress in the 19th century, Ottoman models amplified their forms and included the circular and octagonal shape. Also, with the growth of the club's life, the reproduction of ottomans increased exponentially and they began to include a couple of improvements; such as hinged seats underneath to hold magazines.
Now that we have exposed a brief background about these pieces, let's dive into the models of ottomans.
Scroll down to check which fits you better!
Barcelona Ottoman – 20th century & elegant style
Originally designed by Ludwig Mies van der Rohe, the Barcelona ottoman is the ideal companion to any piece of furniture, such as sofas, benches or chairs. Despite its simple appearance, the Barcelona ottoman features the unique elegance that differentiates the members of the Barcelona Collection.
Its cushion has 18 Individual panels which are cut, welted, and tufted by hand with leather buttons from a single cowhide. Filled with high-quality, resilient urethane foam and with down-like dacron polyester fiberfill.
In which colors exists the Barcelona ottoman?
The Barcelona ottoman comes in different and vibrant colors. We've listed each of them with its respective picture for better perspective purposes.
Brown
White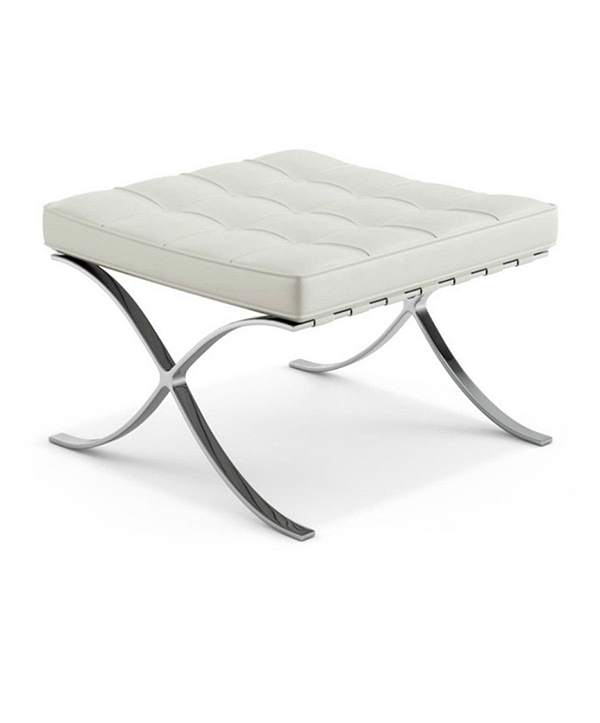 Black
Tan
This versatile ottoman is contemporary and compact, upholstered in leatherette that stands up to high traffic. Understated chromed steel tube legs complete the Plush ottoman. If you like steel details this is another option to have.
This champagne gold leatherette awakens any space with glamour, a piece that truly expresses luxury and retro vibe.
If you wanna go for something higher than last, you can opt for this one. This model features a molded fiberglass frame, fire retardant polyurethane foam padding, and covered with 100% wool fabric.
This type of ottoman with subtle wooden details it's perfect to place at any patio, backyards, poolsides, and other outdoor lounge areas.
Enjoy the good life with an iconic arrangement that makes it easy to enjoy conversations together with friends and family. Made of powder-coated aluminum with all-weather polyester cushions, Fortuna appeals to the modern palate without overwhelming the senses. The Fortuna Outdoor Series is perfect for contemporary
Elevate your legs on the delightful aesthetics of the Prince mid-century style ottoman. Made to convey the pleasure of simple post-industrial design, Prince comes finely upholstered in fabric with plush foam padding and stained hardwood legs. Prince combines a boxy design with artfully tapered legs for a piece that leaves you thankful that you can relax amidst such calming décor.