Barcelona Daybed | The Best Furniture for Your Home Office
Struggling thinking about which daybed, table, or decoration to place inside your home office? If yes, don't worry about it! We have all been through the same situation.
The fact is that one of the most important things in this lifestyle is trying to keep the workspace separate from the other rooms in the house. This allows for greater privacy and concentration.
Besides, it's also relevant to create areas that can cater to different types of phases in the work process, which means that they need to be versatile, providing you options for interaction, concentration, and creation.
Barcelona Daybed a Great Way to Stylize Your Environment
What a better way to enhance your work environment that multifunctional elements like a daybed.
A daybed is a furniture piece ideal for smaller spaces or spaces that need to be flexible. They are designed to be used as sofas during the day, sleeping at night, lying down to relax, and last but not least, working on projects for writing, designing, programming, etc.
"It's what every writer needs: a daybed".

Vince Flynn – Famous American writer.
The reason why everyone's obsessed with them is that they offer all the functions mentioned while looking elegant and modern. Today we're going to talk about the Barcelona daybed model.
This iconic piece was designed by none other than Mies van der Rohe, one of the most prominent figures in architecture. This daybed is made of African sapele mahogany wood frame with stainless steel legs hand-polished to a mirror finish.
Which Elements Complement A Barcelona Daybed?
All right! Assuming that you already have your Barcelona Daybed replica or original, which other things can you add to construct your dream home office environment? Hmm, let's say that you are writing and want to lay down a couple of minutes to find inspiration. Where can you put your laptop while laying? Yes! A table.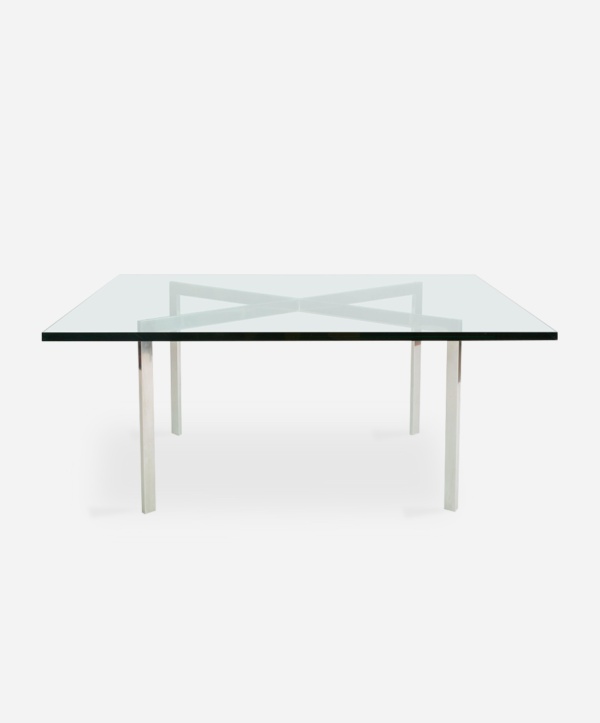 But not any table, it needs to be one that fits with the mid-century style you want to include in the room. Here is a classic option that would perfectly incorporate.
Barcelona Table – Keep Your Modern Look
The Barcelona table has the same aesthetic vibe that the daybed. It is made from stainless steel base supporting a 1/2″ thick tempered glass with 1/8″ beveled edges. Using a combination of chrome and glass will keep the simplistic sophistication you're looking for.
Daybed & Arco Lamp – Best Duo to Create Luxurious Space
The Arco Floor lamp in style is a timeless masterpiece. This is an authentic Carrara Marble stone that creates an elegant and sophisticated focal point for your room.
The dramatic stainless steel finished arco creates an incredible and luxurious environment. The head is embellished and protected by a dome-like shape, adding to the artistry. The arco floor lamp is the most eminent specimen in arco lamps and easily commands attention.
No midcentury modern style list would be complete without the arching reach of an arco lamp. The size of this accessory envelops you giving you a timeless relaxation.