Barcelona Chair and its Top 5 Movies Cameos
The Barcelona Chair, like the many other mid-century modern pieces in our Barcelona Collection and in our Best Sellers, is an icon of luxury that constantly appears in movies and television sets in a variety of colors and decoration schemes. There's only one constant: all of these places are for the wealthy.
The Barcelona Chair has made an appearance in iconic TV shows such as Better Call Saul, the Breaking Bad spin-off, Archer, Mad Men, and many more. When it comes to films and TV shows, it's hard to summarize the appearances of the Barcelona chair in one article: that's why we've come up with a separate article for all the Barcelona Chair TV Cameos and we're dedicating this one only to films.
Barcelona Chair Top 5 Movies Cameos
You can spot the Barcelona Chair in films like American Psycho, at James Bond's home in Casino Royale; among the vampiric youth of Twilight; as part of the home design of Bruce Wayne in Batman vs. Superman; it even made a brief cameo at the end of the sentimental 500 Days of Summer, it appeared dramatic in Extremely Loud and Incredibly Close; and undercover in the spy thriller series Homeland.
Here are our top films 5 iconic appearances in which the Barcelona chair is more prominent.
Tron: Legacy
Like everything from the mid-century modernist period, the "Tron: Legacy" sets wanted to convey a feeling of futuristic ambiance with a classic twist, and the Barcelona chair made a striking appearance in an all-white upholstery (along with other mid-century classics).
Batman vs Superman: Dawn of Justice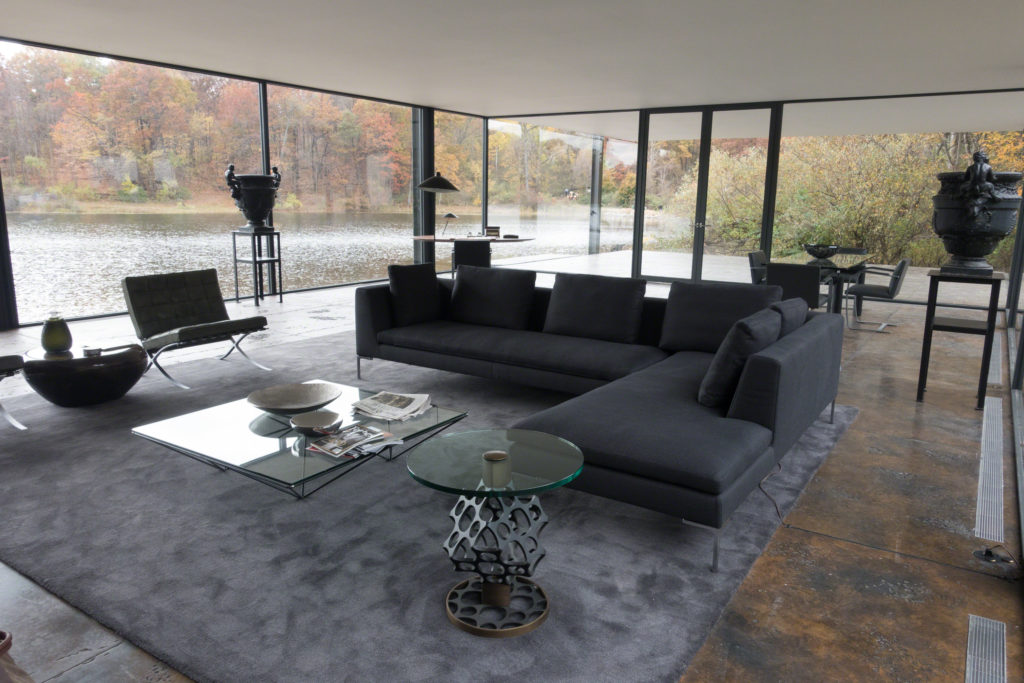 If Tony Stark gets to own the Arco Lamp and Eames Lounge Chair (also featured in "Tron: Legacy"), what does his DC Comics counterpart get? Bruce Wayne seems to like modernist furniture as much as Iron Man, and his lake house is the best proof of that. However, he seems to enjoy Bauhaus a little bit more, throwing a van der Rohe daybed, Barcelona Chairs, and a Le Corbusier dining table in the mix.
Casino Royale
If there's anyone from the movie world that's fit to sit on a classic Barcelona chair, classic brown leather style, that person is James Bond. I rest my case. The scene is in a beautiful, classic hotel room, somewhere in Europe. Bond (played by Daniel Craig) is looking a bit distraught while receiving a visit from M, his superior. The comfort of the Barcelona chair, somehow, appears to lighten the mood.
American Psycho
By now you'll probably have noticed that successful, wealthy men have a thing for Barcelona chairs (again, think of its royal origins). The very clean-cut serial killer Patrick Bateman (also a rich businessman), played by Christian Bale, is no exception. His white-clad apartment includes a couple of black leather renditions, complete with their ottomans at the other side of an Alanda glass coffee table.
500 Days of Summer
In this romantic movie, Tom a greeting-card writer and hopeless romantic played by Joseph Gordon-Levitt is caught completely off-guard when his girlfriend, Summer (Zooey Deschanel), suddenly dumps him. You can see him by the end of the movie sitting on a Barcelona Chair while he reflects on their 500 days together to try to figure out where their love affair went sour, and in doing so, Tom rediscovers his true passions in life.