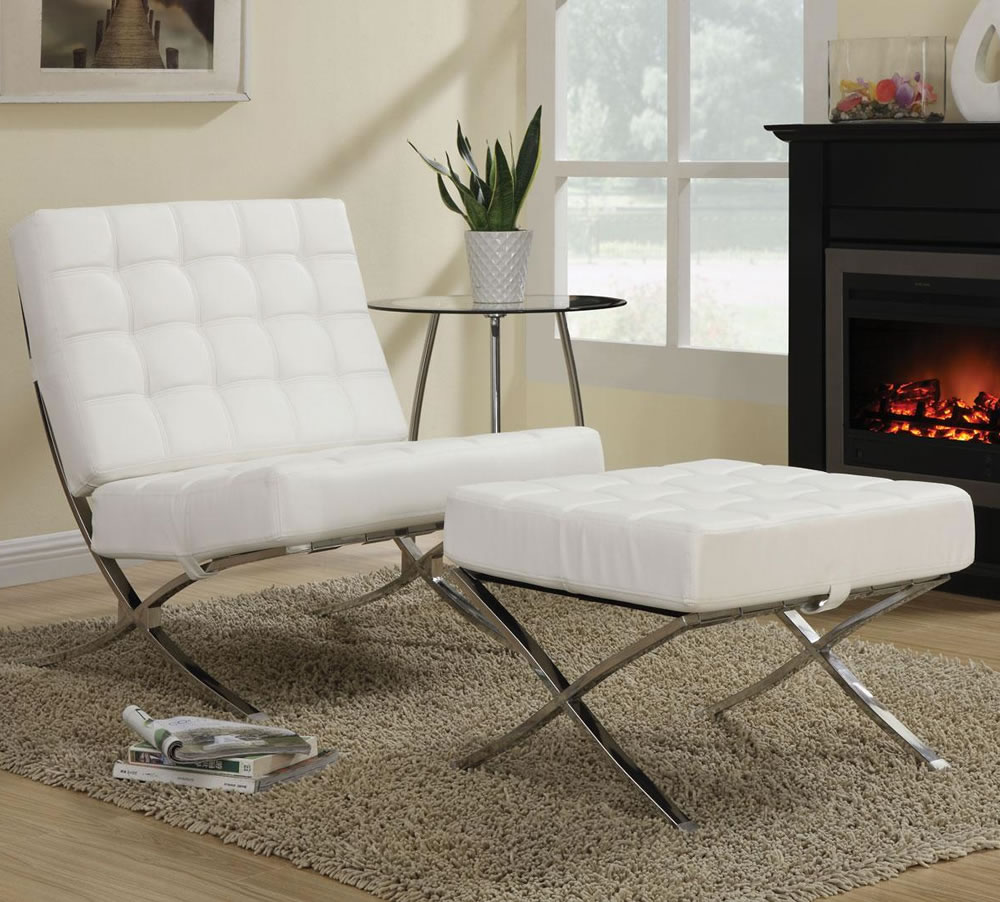 A Comprehensive Interior Design Guide to The Barcelona Collection
According to many style and décor blogs, 2019 has been the year of bright colors, mainly in part because 2018 was the year of neutral palettes and austerity. This doesn't have to be a bad thing, and you might be asking yourself: does mid-century modernist furniture have a place in brightly-colored rooms? The answer is, of course, a loud yes. Mid-century furniture can go well everywhere, the difference between it working and not working on a room has to do with you, most of the time.
Bright colors are in stock when it comes to the Barcelona Collection. We have written long blog posts about how you should style with it, given that for a lot of professional interior designers, the Barcelona Collection is a group of items that people feel very comfortable and confident with when it comes to the decoration of their own homes.
The idea of keeping things 'neutral' has always been associated with the idea of 'trying not to screw up while decorating,' i. e. playing it safe, and the Barcelona Collection offers people the ability to do just that. Let's examine the items that we have on the Collection, in groups, so we provide you with a complete Interior Design guide. The fact that we group them does not mean that you should buy these items as groups, but consider the pairings a good suggestion for getting yourself any one of the products in the Barcelona Collection.
Barcelona chair and table
The Barcelona chair pairs best with the Barcelona table replica. If you purchase two chairs you can put a Barcelona table right in the middle and it will look gorgeous. Consider using your Barcelona chairs as practical items that you can move around the house to create focus spots for recreation and leisure. They are big enough to hold two people comfortably and the table creates an excellent contrast with any of the tomes that you choose.
That being said, let's talk a bit more about tones: you have two more choices beside the black, and these are white and tan. These color choices are not universal to the whole collection, as the other items you can only get in black and white. A tan Barcelona chair is a great addition for apartments with white finishing in the walls and surrounding furniture, and only Barcelona Designs sells a replica that's completely cut out to specifications regarding the original.
Barcelona sofa and loveseat
The Barcelona Sofa might be a no-brainer for people who are looking to get the feel of the Barcelona chair but with a little more extra room. The same goes for the loveseat. Both these choices can be found in black and white, and you can put them up with a Barcelona table in the middle as well. However, with a Barcelona sofa, you have to be a little more careful about the space.
Who wouldn't want to have a long, elegant, 3-seat Barcelona chair on their living room? The item, given its price, is usually not as best-selling as the Barcelona chair, but it still keeps most of the aesthetic appeal. It is always best to place it as a floating couch because of its angled shape on the back: pushing it against the wall with only make you lose space, and this goes for the loveseat and the Barcelona chair replica as well.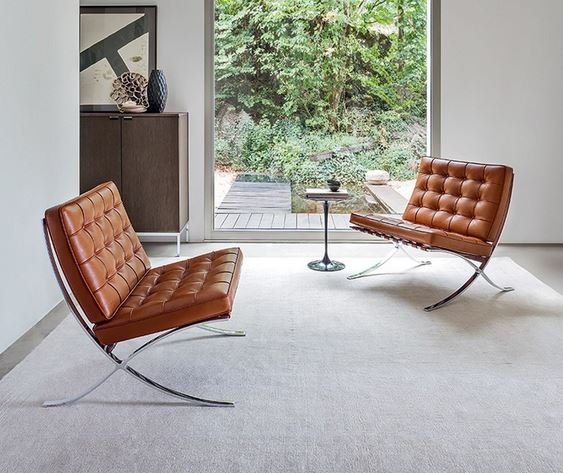 The Barcelona loveseat can be a great purchase in pairs, that's where you will make the most of it. If you want, you can forgo the table and go for two of them, diagonally placed towards each other with a short and sweet side table in the middle. This creates a beautiful space for conversation. Don't worry about the prices: when you compare the quality that we are offering with our competitors, you'll understand why purchasing from Barcelona Designs is the right choice.
Barcelona bench, daybed, and ottoman
This might be the most versatile combination of the whole Barcelona Collection. The bench, the ottoman, and the daybed are not just complimentary items to the first four, but they can also work alone very well on their own. Consider purchasing three or more Barcelona ottomans for your living room to place in various spots to fill awkward spaces that might be left between, behind, and in front of furniture you already purchased. They go great with everything, so don't be afraid to mix and match.
The Barcelona daybed can be a huge option for placing as a side piece on any living room, either in conjunction with the loveseat or the Barcelona chair itself, as pairing it with the sofa would probably take just too much space. Last but not least, think about the benches as small additions to any bedroom, living room or entrance that might have empty walls in need of some revamping, though they also work great at the foot of the bed.
***
Nowadays, great design is a bit more democratic and you can get yourself a quality replica for only a fraction of the "certified" asking price. The Barcelona Collection's appeal has stayed the same for years, and now it is as good moment as any to get any one of these items. Everybody wants a real one, but only a few get the pleasure. Like original Eames furniture, the Barcelona chair is very pricey, but when you purchase from Barcelona Designs, you can be sure you're getting a quality item.
The Barcelona chair, as we've written before, was not a very homely object, but more of a royal seating. You know the origin story: it was designed with the aristocratic Roman "curules" in mind. Unlike the Eames Lounge chair, for example, which is the realization of a "well-used first baseman's mitt," the Barcelona chair was always intended to be a high-class object.
An original Barcelona chair will cost you upwards of $5,000, much like an original Eames lounge chair with ottoman. A replica will cost you about a fifth of the price, and no matter what the empty-wallet snobs out there are telling you, it is still a Barcelona chair. The same goes for all of the other items on this collection.