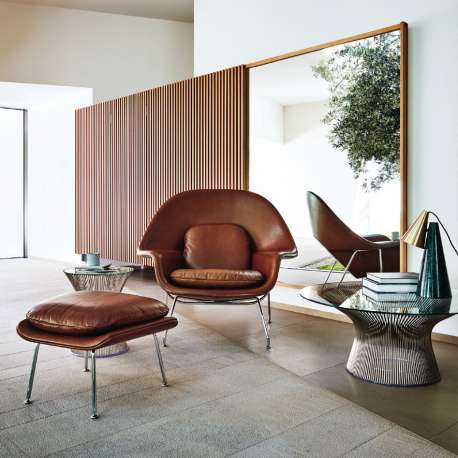 7 Interesting Facts You Probably Didn't Know About The Womb Chair
Our Saarinen Womb Chair and Ottoman Replica, apart for being aesthetically beautiful, it's one of the most comfortable lounge chairs in our store. But there's more to our Womb Chair replica than just lounge chair that once you sit, you never want to get up. Behind the Womb Chair, there's a lot of interesting facts, features, information and history most of our customers don't know. Today, we're digging into the rich history of the Saarinen Womb Chair and pulling out some helpful lesser-known features and facts for you!
A Basket Full of Pillows
The Womb Chair was originally designed by Eero Saarinen, one of the mid-century modern design pioneers. Saarinen is famous for his Womb Chair, also known as Model No. 70. But most people don't know the Womb Chair was inspired by one of his bosses and design icon, Florence Knoll, who challenged Saarinen to create a chair that "she could curl up in".

By then, Eero Saarinen wanted to work on chairs designs that provided comfort through their shell shape instead of their cushioning. Florence Knoll approached him and asked, "Why not take the bull by the horns and do the big one first? I want a chair that is like a basket full of pillows…something I can curl up in." The result? One of the most iconic, and comfortable, lounge chairs of mid-century modern furniture design.
One Size Doesn't Fit All
Originally, the Womb Chair was available in three sizes:

A large Womb Chair 35 1/2″ tall with a seat height of 16″ and arm height of 20 1/2″, with a large ottoman 16″ tall.
A medium Womb Chair: 31 1/4″ tall with a seat height of 15″ and arm height of 18″, with a medium Ottoman 14 1/2″ tall.
A small Womb Chair 27 1/4″ H tall with a seat height of 14 1/2″ and arm height of 17″. This small Womb Chair didn't come with a small ottoman.
What is the Womb Chair made of?
Our Womb Chair replica is expertly built over a molded, reinforced fiberglass shell, while the Womb Chair Ottoman is made of a foam cushion over a molded plywood base. Both the Womb Chair replica seat and back cushions are removable, just like the original design.

This Womb Chair designed evolved from the original prototype designed in 1946. While the early versions of the Womb Chair had black metal bases, our newer reproductions come with polished chrome finish stainless steel legs.
Why is it called the Womb Chair?
How did the Womb chair get its name, you may ask? Apparently, the Eero Saarinen and his wife were having a couple of guests over at their home one day, and the wife was pregnant. Once Eero Saarinen saw the woman sitting comfortably on the chair, he decided to call it the "Womb" chair.

Saarinen commented on this name choice: "It was designed on the theory that a great number of people have never really felt comfortable and secure since they left the womb. The chair is an attempt to rectify this maladjustment in our civilization." Saarinen further explained, "There seemed to be a need for a large and really comfortable chair to take the place of the old overstuffed chair. . . . Today, more than ever before, we need to relax."
The Lesser-Known Material
Most of the Womb Chair available in the market feature wool fabric upholstery. Our own Womb Chair and Ottoman replicas feature premium bouclé wool upholstery, our go-to upholstery choice for the comfort it provides. But you'll find many Womb Chairs featuring leather upholstery, too. This leather upholstery usually shows patina and wear as years of use.
A Movie Star
Along with a few selected iconic pieces, the Womb Chair has been part of several films and TV shows sets. The Womb Chair has appeared in a multitude of cinematic productions that includes The Moon is Blue, Legally Blonde, Torch Song and Down with Love.

One of our favorite appearances of the Womb Chair in films is the Womb Chairs duo from the movie "Down With Love". In this film, not one, but two pale pink Womb Chairs appears in the living room of protagonist character Barbara Novak's home. The scene where she's on the pink phone, wearing a midriff-baring shirt and shorts along with two womb chairs in her fine 60s apartment, is unforgettable and speaks of the great choices of decor and furniture of this film.
The Value of Good Design
Did you know the Womb Chair is part of an exhibition in the Manhattan's Museum of Modern Art? The MoMA's mid-century Good Design exhibitions, which get to the heart of a question the Museum has been asking since its inception: "What is a good design and how can it enhance everyday life?"

This exhibition features exclusive selections from the MoMA's design collection that showcase the essential values of Good Design as promoted by museums, design councils, and department stores. You can find the Saarinen Womb Chair among other mid-century modern iconic pieces by designers like Charles and Ray Eames and Hans Wegner, alongside more unexpected items, such as a hunting bow and a plumb bob, and everyday objects including an iron, a hamper, a rake, a cheese slicer, and Tupperware.
What's Next
Congratulations! Now that you're fully educated in our Saarinen Womb Chair replica, you can amaze guests and friends with your knowledge of an iconic mid-century modern design piece. And don't miss out! You can have one of the most comfortable and famous mid-century modern design lounge chairs delivered to your door, for free!

The next step is to check out order your own! Browse our store and choose between all our available colors and materials to make our Womb Chair replica your own.