5 Great Reasons To Buy The Gorgeous Noguchi Table Replica
It is very hard to think about pushing the sale of a Noguchi table (they practically sell themselves). For Barcelona Designs, the Noguchi Table replica has been one of our best-selling items since the very beginning, right there at the top with the Arco Lamp replica, Womb chair replica, and Eames Lounge chair replica. Anyone who has a hint of what great design is will appreciate the Noguchi Table replica as a piece of furniture, especially fans of the mid-century modern style.
We know, however, that this table can look weird at times, and that people tend to wonder about the usability of the object itself. You should read our previous articles on it to understand more about how it came to be. The Noguchi table replica looks gorgeous, yes, like a sculpture, but is it the right choice for my living room? What can I put on it? How safe is this table? We know you have questions, so we've rounded up five great reasons why should get a Noguchi table.
1. It looks great everywhere
The Noguchi table replica will look great in almost any kind of space. If you have a neutral color palette it will look good. It just fits. Wooden Interior? It can act as the centerpiece without being too overwhelming or too quiet to make an impression. Large living room? Perfect, it is sizeable enough for any kind of space. Small living room with only a couple of chairs? Awesome. Its ubiquitousness doesn't make it hard to place, but rather the crown jewel of any room.
2. It is actually one of the most resistant tables out there
Think about what a coffee table is and how it is constructed. Most regular coffee tables have short, skinny legs and thin panes, designed to give that sense of sleekness that everybody wants. The Noguchi table can look bulky, but that's because it's crafted from two big pieces of wood (that act as a triangular base) and a thick piece of glass. Harder to knock over, to scratch, and to break. This table will last forever. The design does deviate from what most people would consider sleek or minimalistic, but the simple nature of its three pieces gives it these two qualities.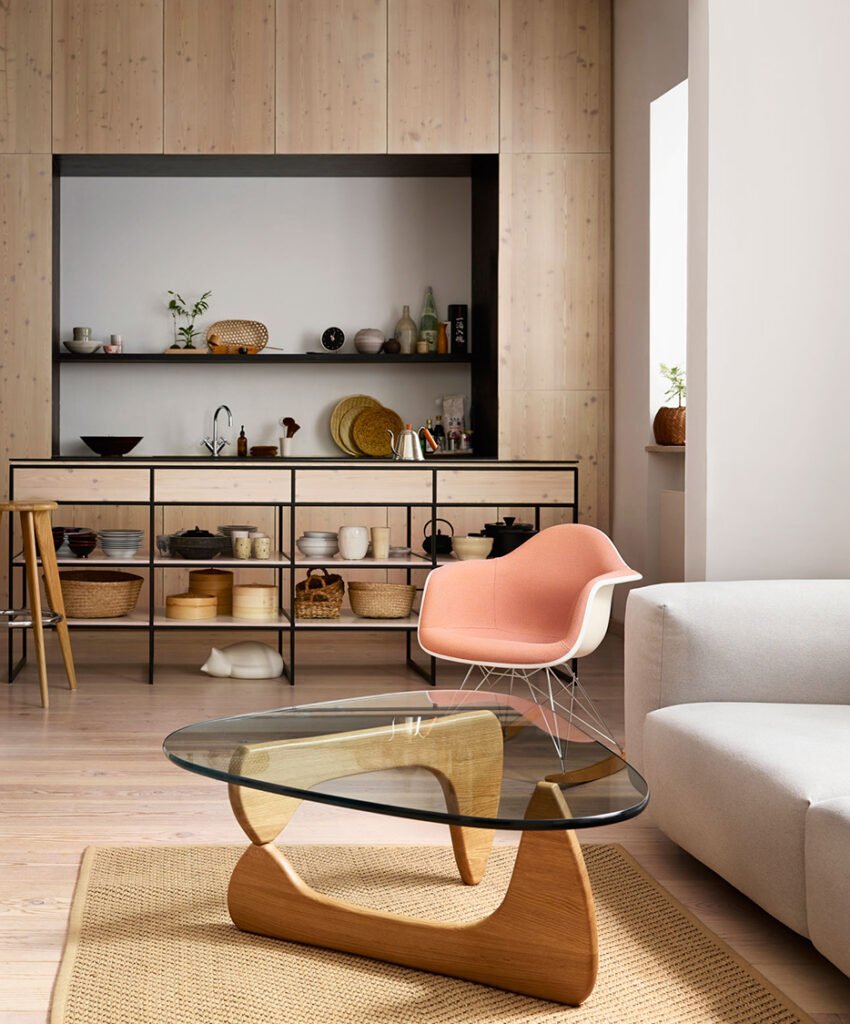 3. It's kid friendly
The original design makes it so that the edges of the glass are thick and round. There are no sharp edges to this table, nothing that would endangered a small child. Besides, did we mention that is pretty hard to knock that table over? And that breaking the pane would be really difficult? You should keep this into consideration if you're looking for an item that safe for children without compromising style.
4. It has its own personality
The Noguchi table replica is one of those items that everyone can have on their homes because it doesn't belong to a particular style of décor. It is so artistic that it can signify a style on its own and doesn't need for you to change everything around the house to include it. This is great for people who are getting into a new home or apartment, a good way to break the ice, furniture-wise.
5. Its one of the most affordable replicas on the market
We don't want you to go and purchase one of the infamous knockoffs that have been going around lately, most reproductions deviate heavily from the original design. However, there are many quality reproductions of the table that you can get for a budget price, and Barcelona Designs best-selling version starts at $639.