3 Important Things To Check Before Buying a Barcelona Chair
If you're reading this article, you're probably interested in buying a Barcelona Chair. We get it. Its simple yet elegant design can be very enticing. No wonder it's one of the most popular items in our Barcelona Collection and our Best Sellers.
Before you make the decision, however, you need to be informed. There are 3 crucial things you need to know to make the best use of your time, investment and, of course, your Barcelona Chair.
Before making the purchase, make sure you do these three things:
Always Measure First
Always check for measurements before buying our Barcelona chair. Scratch that, always measure first before buying any piece of furniture. Every furniture dealer can tell you about the number of clients buying a piece only to find out that the furniture is too big or too small for their home. Always measure first to see if it matches your room and you what you have in mind.
Another reason why you should check the measurements of your Barcelona Chair is that you want the real thing, right? Or the closest to the original thing, at least. Barcelona Chairs are probably one of the most copied items from the mid-century period, right below the Eames Aluminum Office chair. A Barcelona Chair Replica that's true to its original design will be an average of 31 inches wide and long.
Choose the Best Materials and Design
There are so many variations, colors, and builds of the Barcelona chair available hat it might be hard to choose from all of them. Keep in mind that a Barcelona chair will always be made out of leather, and some replicas are deviating from this to cut production costs. Keep an eye on product reviews from proposed dealers, you can even go on Reddit to figure out where to purchase.
Make Sure you Choose the Best Price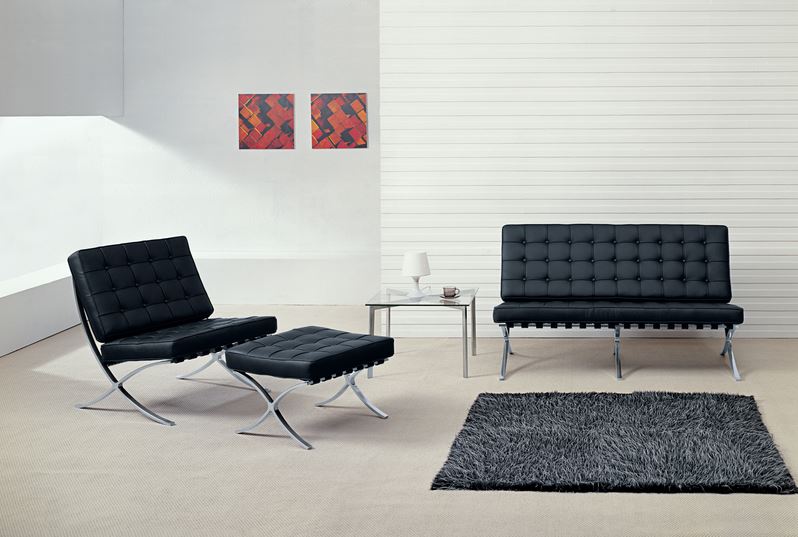 An original Barcelona chair will cost you about $5,000, which means that a replica will set you back about $800-1,200. Why is there such a big difference in price? That's because "original" items are from extremely big and international retailers who do things like stamping a seal or copy of the designer's signature on the furniture, which somehow "certifies" them, and makes them better.
But back to our main point: pricing. The price range above is what you'll probably spend on a Barcelona chair. Material quality does vary between options, so again, read some reviews from external parties that have nothing to do with the dealer you're considering. If somebody offers you more or less than this price range, it's probably a scam. Buyer beware!